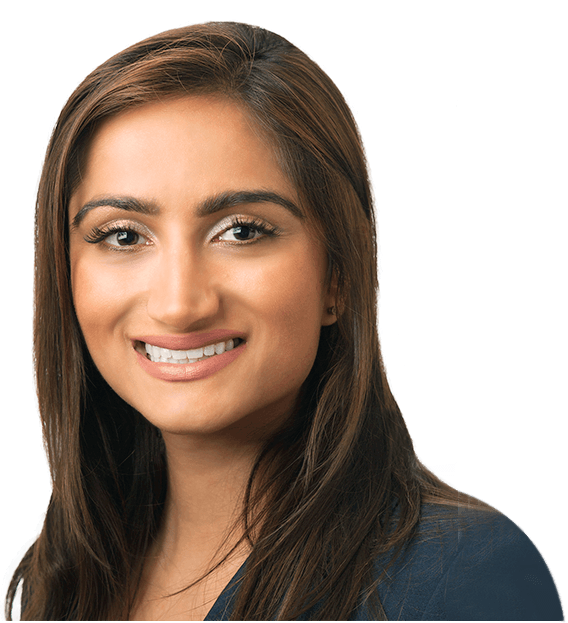 Dr. Alvi is a board-certified gynecologist, fellowship-trained in minimally invasive gynecologic surgery, who is committed to providing compassionate, personalized, and evidence-based gynecologic care for women of all ages. She specializes in the treatment of complex gynecologic conditions including endometriosis, fibroids, adenomyosis, abnormal bleeding, gynecologic pain, ovarian cysts, infertility, abnormal pap smears and menopause. Dr. Alvi strongly believes in empowering women with the knowledge needed to make informed decisions about their own health. and counseling them about all of their medical options.
Dr. Alvi earned her master's degree in Biomedical Sciences and medical degree in Ohio at The University of Toledo College of Medicine. She completed her residency at Saint Joseph Hospital in Chicago and then went on to pursue additional specialized training in the form of a two-year fellowship in Minimally Invasive Gynecologic Surgery at Northwestern University Feinberg School of Medicine. Dr. Alvi has served as an attending faculty Clinical Instructor at Northwestern, teaching residents and medical students. She has also published in a number of medical professional journals and presented her research at several national meetings.
Dr. Alvi is married and lives in the northwest Chicago suburbs with her husband and 2 sons. She has a strong passion for women's health and strives to do the very best for her patients. She is also fluent in Urdu/Hindi.
Education & Experience
College & Residency
Northwestern University Hospitals
Fellowship, Minimally Invasive Gynecologic Surgery
St Joseph Hospital
Residency, Obstetrics and Gynecology
University of Toledo College of Medicine
Medical School
Certifications & Licensure
American Board of Obstetrics and Gynecology
Certified in Obstetrics & Gynecology
IL State Medical License
Active through 2020
North American Menopause Society (NAMS)
National Certified Menopause Practitioner (NCMP)
Publications
Laparoscopic Major Vascular Injury Simulation Using a Synthetic Compared With Porcine Model.
Milad MP, Alvi FA, Breen MT, Brincat C, Frederick PJ, Lewicky-Gaupp C, Lewis M, Rone B, Swan K, Wollschlaeger K
New paradigms in the conservative surgical and interventional management of adenomyosis.
Alvi, F. A.,Glaser, L. M.,Chaudhari, A.,Tsai, S.,Milad, M. P.
Neoadjuvant chemotherapy and primary debulking surgery utilization for advanced-stage ovarian cancer at a comprehensive cancer center.
Mueller JJ, Zhou QC, Iasonos A, O'Cearbhaill RE, Alvi FA, El Haraki A, Eriksson AG, Gardner GJ, Sonoda Y, Levine DA, Aghajanian C, Chi DS, Abu-Rustum NR, Zivanovic O
Single-Site Robotic Excision of Bladder Endometriosis Utilizing Fluorescence Imaging and CO2 Laser Technology.
Alvi FA, Zubair M, Diakos B
Trends in Malpractice Claims for Obstetric and Gynecologic Procedures,2005-2014
Glaser LM, Alvi FA, Milad M
Hospital Affiliations
Dr. Alvi is affiliated with the following Hospitals. Affiliations usually means this doctor has admitting privileges at that hospital.
Northwest Community Hospital
Arlington Heights, IL
#14 in Illinois

Insurance Accepted
We accept all major health insurance plans. Please call our office for more information.